Updated May 3rd 2007
Flyers V NI Prowlers Sun May 13th 11am Dundalk Ice Dome
Flyers take to the ice on May 13th next in a return fixture v NI Prowlers. The Flyers lost their very first game 2 to 1 V The Prowlers back in March. Both teams have been training hard which should ensure another close encounter.
Upcoming Games:
May 13th Home V Northern Ireland Prowlers
Jun 3 rd Home V New York Imperials
Club and IIHA Fees now due:
All Club and IIHA fees are now due. You need to be a fully signed up to the Flyers to participate in our upcoming game schedule. Please bring your fees with you to practice and fill in the Club and IIHA registration forms on the night.
IIHA Fees:
Senior Players: 75 Euro for Registration and Insurance.
U16 Players: 30 Euro for Registration and Insurance.
Team Ireland Celebrates!
Team Ireland Celebrated a 1 nil penalty shot win over Team Luxembourg to take the Silver Medal at the IIHF World Div III Championships at the Dundalk Ice Dome on Saturday April 21st. The win secured Ireland's 2nd place position and earned them promotion to DIV II for 2008. The winning Irish Team included Flyer's Players Stephen Cooper, Dean Kelly and Philip Darcy.
Congratulations from the Flyers Ice Hockey Club to all concerned!
Flyers 2 Team Mongolia 4
The Flyers provided the opposition in this IIHF sanctioned Exhibition game at the Dundalk Ice Dome. Team Mongolia were taking part in the IIHF 2007 World DIV III Championships and were scheduled to play Armenia. The Flyers had several Guest Players on show and gave a good account of themselves against a tough Mongolian National Team.
Full Match Report to follow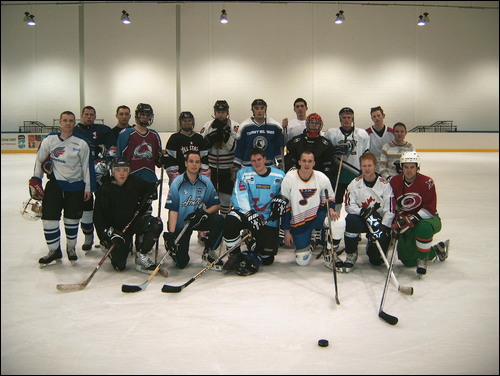 Back row: Mike St.Ledger, Mike Daciw (A), Jonathan Dunne, Philip Darcy (A), Raymond Keane, Daniel McDonagh, Rudi Detling, Stephen Cooper, Dean Kelly, Gary Rochfort.

Front row: Chris Davitt, Barry Higgins, Gerry Duffy, Vladislav Palilov, Mark Pepper, WIll Fitzgerald (C), Kamil Coaching Staff: Keith Daly, Brian Clery (Not in Photo) Northern Ireland Prowlers 2 Flyers IHC 1: Flyers IHC played their first competitive game on Sun March 25th v NI Prowlers at the Dundonald Ice Bowl and ended up on the wrong side of a 2:1 scoreline.In a very close match, the Prowlers started strongly and took the lead in the first Period before Gerry Duffy equalised for the Flyers. As the game went on the Flyers grew in confidence but could not stop the Prowlers from scoring a 2nd goal. The Third period saw the Flyers raise their game another notch but they could not find a 2nd equalising goal despite two power play advantages. When the final siren went the Prowlers were satisfied to come away with a narrow one goal victory. Flyers Captain Willie Fitzgerald, was Man of the Match. The Flyers would like to thank the Prowlers for a great game and a special word of thanks to Stand-in Goalie Andy Dickson. Full Match report and Photo's to Follow.

Flyers Jerseys have arrived:




The New Flyers Jerseys have arrived and will be available for collection at practice over the next few weeks Club member: Jersey and Socks (25 sets) 50 Euro each
Club member: Jersey only: 40 Euro each.
Non members: Jersey: 50 Euro each Enquiries please contact Keith on joxerd15@hotmail.com Flyers first practice on Thurs Dec 14 The Flyers Ice Hockey club held it's first ever ice practice at the Dundalk Ice Dome (DID) on Thursday the 14th of December, the practice was well attended with around 20 players turning up on the night. Photo below and those in the Gallery section provided by Chris Davitt. Backrow: Brian Clery; Kamil; Emmet Dowling; Jason Keely; Dorinda Foot; Mark O'Gorman; Daniel Mcdonagh; Lar Sweetman; Paul Morand; Mike St. ledger; Dean kelly; Jamie O'BrienFrontrow: Philip Rooney; Paul Maher; Chris Davitt; Gerry Duffy; Neil Sands; Keith Daly.